Vietnam: In the Eye of the Dragon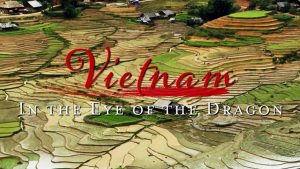 Release Date:
1 April 2018
There is much more to Vietnam than its more famous sites, such as Ha Long Bay, the Imperial City of Hue, the Mekong Delta floating markets, Dalat and Hoi An. Come and witness the third millennium knocking on the door of the big cities, Hanoi and Ho Chi Minh, where, behind the colonial architecture, modern buildings of glass and steel, luxury cars and sumptuous residential accommodations spring forth.
Far from this modernity, the remote regions of ancient Tonkin still honour their ancestral traditions amongst extraordinary landscapes along hillsides shaped by rice paddies. There, "Mountain Princesses" pass on a wealth of knowledge from mother to daughter.
Share in the everyday simplicity of the lives of these people, far from the touristy side of Vietnam. Whether it be rice transplanting, the creation of colourful costumes using the batik technique or an evening spent with a family around the fire, you will be dazzled by this unique world.
Available on DVD on Amazon.ca/.com/.uk and on VOD on Prime Video by Amazon.com